Thorough preparation is the key to your MTB adventure on the Stoneman Glaciara.
Whether in one, two or three days – the Stoneman Glaciara is a unique experience in any case.
You decide where to start – just as it suits you best. You are entirely free to choose the date for your ride within the season.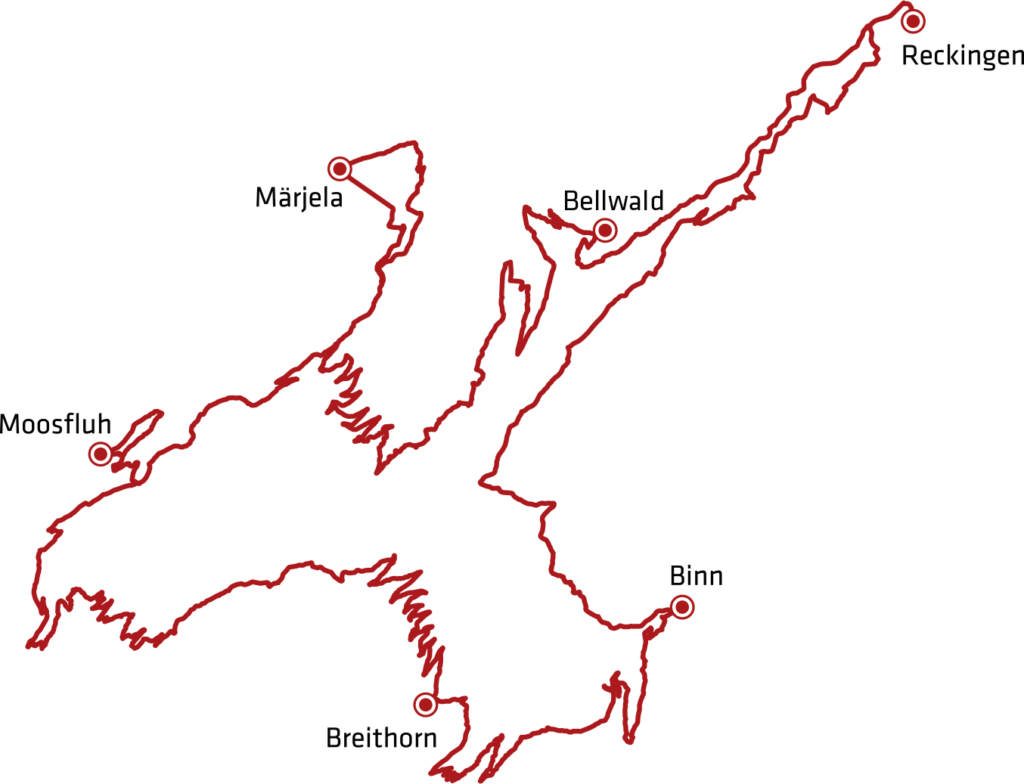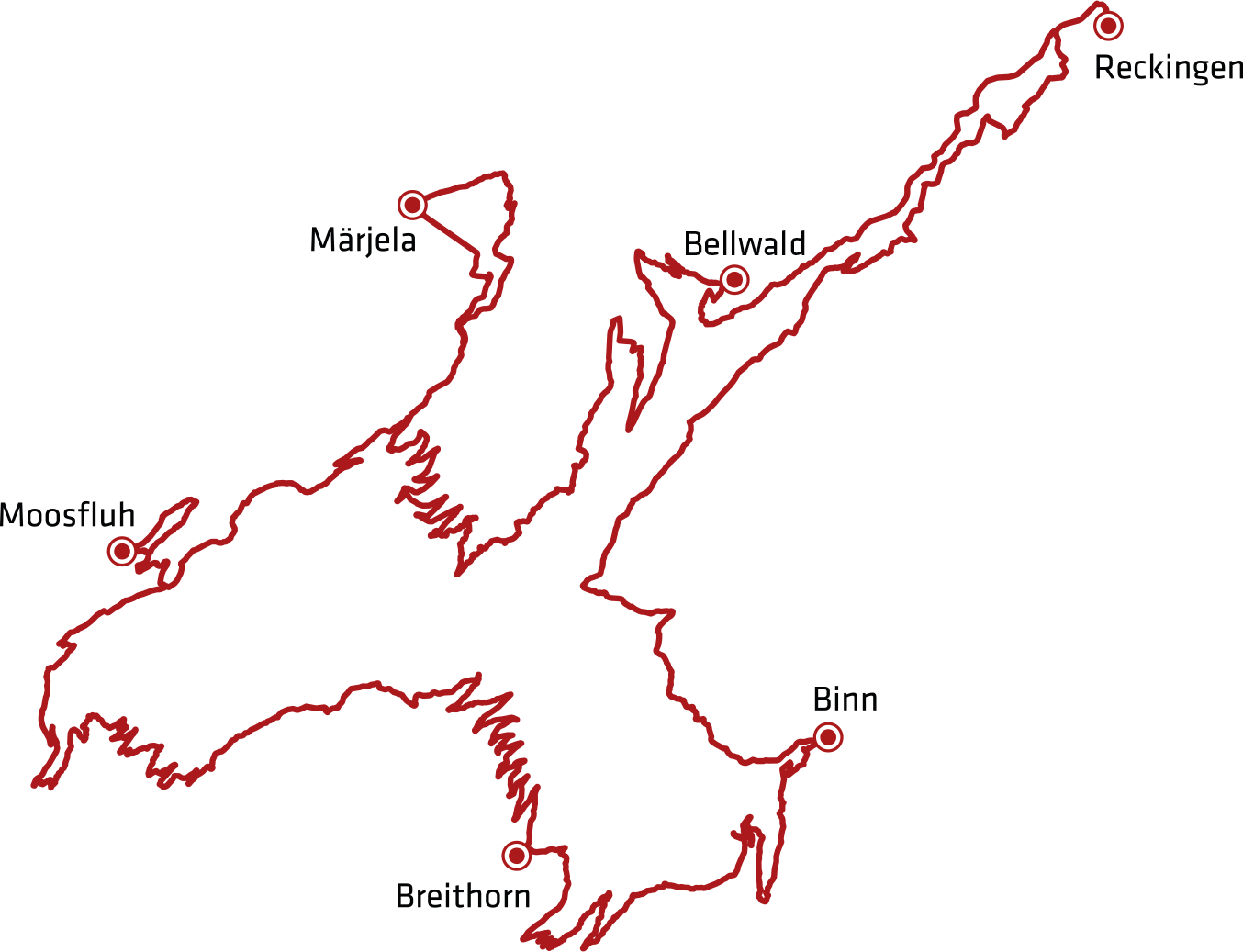 The Stoneman Glaciara is located in the canton Valais in southeast Switzerland.
The route crosses the principal road 19 in the West close to Mörel and in the North-East in Reckingen. The distance within the Rhone valley is 22.5 km.
North-to-south extension: ca. 10.5 km
West-to-east extension: ca. 16.5 km
Brig is the wide-area's SBB station. The Matterhorn Gotthard Bahn. For Silver- and Bronze-Riders staying at one fixed logis partner, it is an ideal transfer.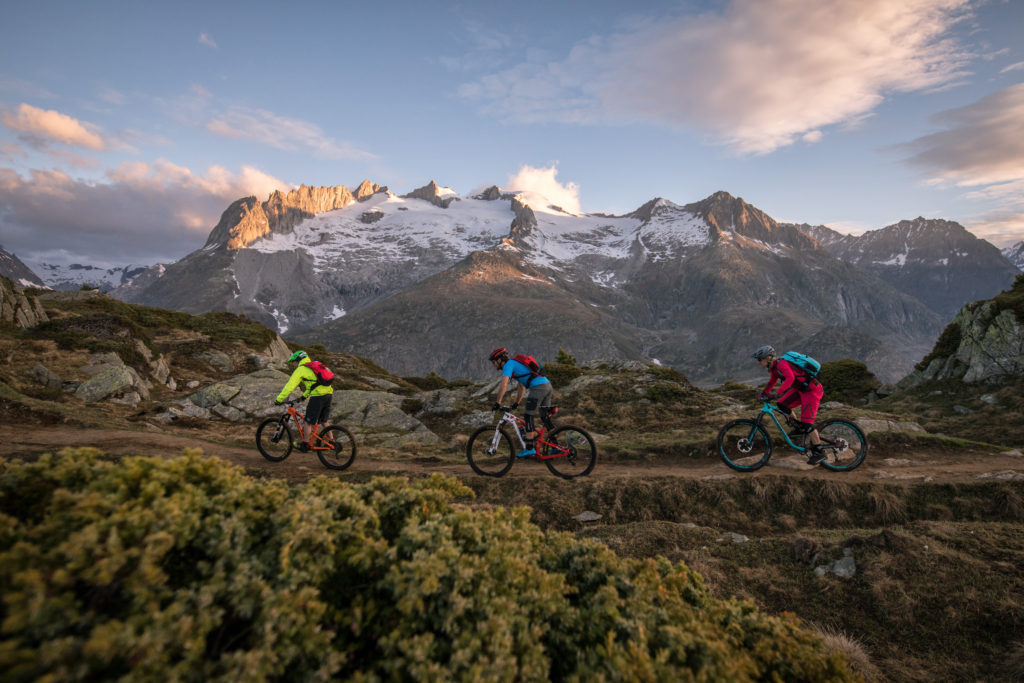 The Stoneman Glaciara route is perfectly signposted. The signslead you securely. They are placed at every crossing or conjunction and again 100 to 200 meters behind for confirmation.
If you are going for Gold, please use a GPS device with the latest GPS Track. You will receive it with your registration via e-mail. On site, the current GPS track for the Stoneman Glaciara is also available from the issuing offices of the starter packages and the lodging partners.
Each starter package contains a detailed route map (77 x 70 cm) with details on the characteristics of each stage.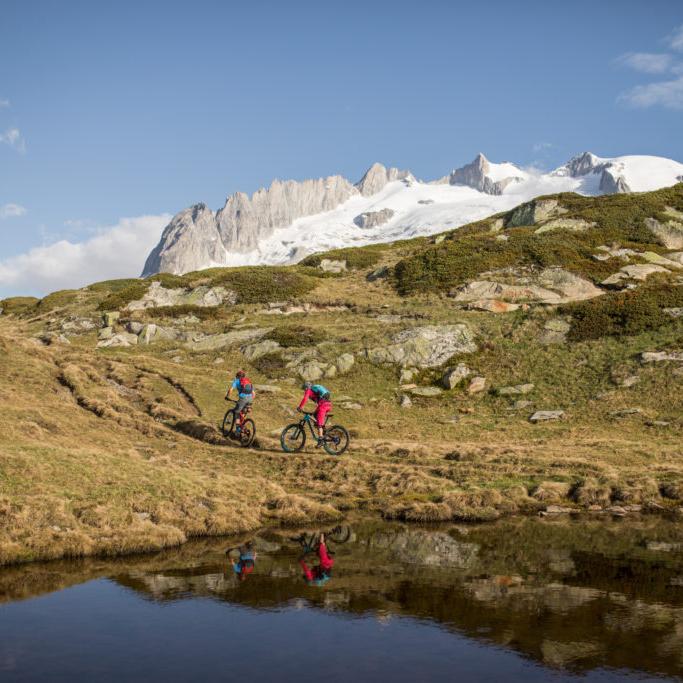 Out of consideration for the landscape and wildlife, the Stoneman Glaciara can only be ridden in daylight. During the season, this includes the following times:
June: 7.00 am–9.30 pm (14.30 hrs)
July: 7.00 am–9.00 pm (14.00 hrs)
August: 7.00 am–8.30 pm (13.30 hrs)
September: 7.30 am–7.30 pm (12.00 hrs)
October: 8.30 am –6.30 pm (10.00 hrs)
From September on, Gold can only be achieved by highly experienced riders.
Ambitious 127 km and 4,700 m altitude gain.
The Stoneman Glaciara packs a punch – in terms of technique and fitness! Regarding riding technique, most passages are between S0 and S2 with a few S3- and push passages. Gold is therefore only attainable for very experienced and conditionally fit bikers. If in doubt, take your time for your first ride and try Silver or Bronze first.
The best starting points for your Stoneman Glaciara Mountain Bike adventure are the official issuing offices of the starter package and the lodging partners.
0%

cobblestone, coarse asphalt

0%

dirt (forest-/meadows-)road
Ready for the Stoneman Glaciara?
Here you will find all the information, tips and stage suggestions for your mountain bike tour – whether in one, two or three days.
For Silver and Bronze riders, we recommend the Matterhorn Gotthard Bahn. It stops at: Mörel · Betten Talstation · Grengiols · Lax · Fiesch Sport- + Feriencenter · Fiesch ·
Fürgangen-Bellwald Talstation · Niederwald · Blitzingen · Biel (Goms) · Gluringen · Reckingen.
The train leaves every hour between 6.33 am and 9.33 pm from Mörel towards Reckingen, in the opposite direction every hour between 6.29 am and 8.29 pm, as well as at 9.10 pm and 11.06 pm.
If you ride silver or bronze as a stage tour, a luggage transfer can be organized individually. Your luggage will be brought directly to your next lodging partner and will be waiting for you in the evening.
 Caution.
The following passages are dangerous. Please consider them when planning your ride.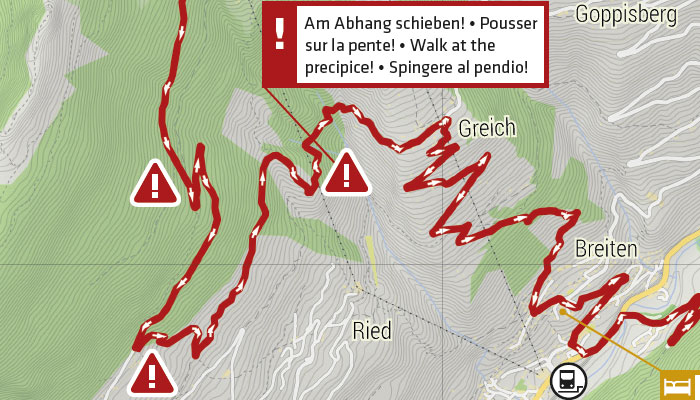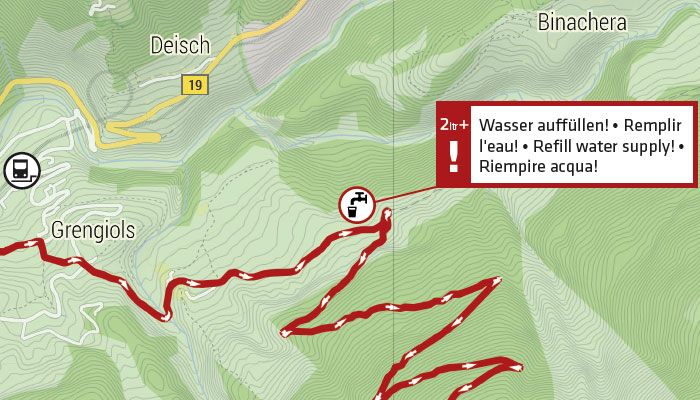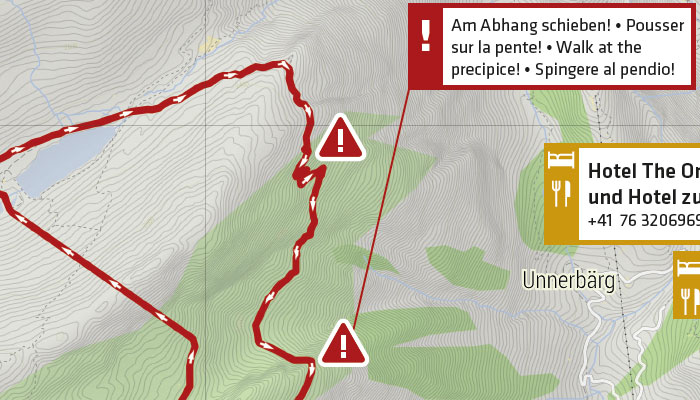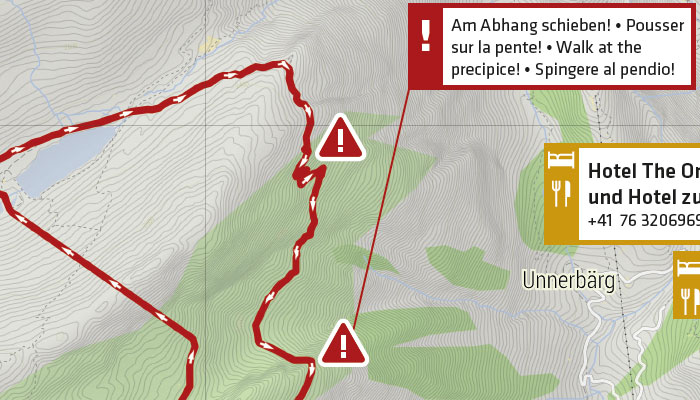 Stoneman Glaciara Sevice-Partner
The Stoneman Glaciara is the five-star mountain bike experience in Switzerland. If you ever need help with your bike or equipment, the following local service partners will be happy to help:
Stoneman Glaciara season 2023: 23. June to 22. October
Brief feedback on the Stoneman: Incredible landscape, great trails, perfectly organised, but most of all – the people. From the local sports shops and accommodation to the tourism office in Reckingen, our expectations were exceeded. The hospitality, helpfulness and heartiness of the locals in the Aletsch area were truly our highlight.
Raphael W. · 8/2017 · Silver